Tattoo Mag Printer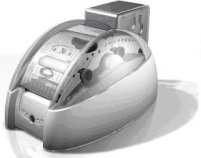 Overview:
The Tattoo Mag is a monochrome printer which includes an encoder for magnetic stripe cards.
This encoder allows you to personalise your cards in two different modes:
ISO 7811 Norms using tracks 1, 2 and 3 (standard factory settings)
Custom mode for specific applications (with different track formats, density per track, start and stop characters…). For magnetic specific encoding developments, please ask us the programming guide or contact our technical support.
Not forgetting to mention that the encoder can be defined by the user to operate with either a low (300 oerstets), medium (2750 oerstets) or high (4000 oerstets) coercivity, by a simple click via the Windows driver. To set the medium coercivity, select high coercivity in the Windows driver.
Advantages of the Tattoo Printer:
Simple and User-friendly
Both the printer and the software have been designed with the user needs in mind.
A compact, light and ergonomic design
Tattoo is the most compact printer in its category! It can fit in any location. Easy to carry, it is also ideal for over-the-counter and itinerant applications.
An affordable and cost-effective solution
Tattoo is the perfect solution for small businesses and organizations which require occasional and small batches of prints: a low initial investment, a premium quality and a competitive ribbon offer.
Flexible
Expedient for both monochrome and color printings, Tattoo offers a variety of options and accessories in order to match all requirements.
Reliable and solid
Tattoo benefits from the Evolis' know-how and quality standards in terms of reliability and robustness.