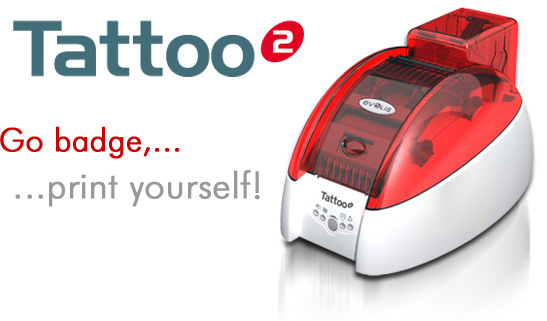 Overview:
The ideal solution for printing plastic cards on a small scale and for mobile applications
In a few seconds, Tattoo personalizes in monochrome or colour your pre-printed or blank plastic cards. With a 300 dpi standard resolution and 'near-to-edge' printing, Tattoo prints pictures, texts, barcodes and logos as required.
Evolis solution for small organizations
Tattoo fully addresses the specific needs of small organizations that print badges in low volume or just once in a while: sport clubs, SMEs, retail outlets, schools, libraries and local authorities. It is ideal for membership cards, subscription and loyalty cards, badges for visitors and employees and much more. Go badge, print yourself!
Main specifications:
Near-to-edge single-sided printing
Color and monochrome capabilities
Printing speed : 40 seconds / card (YMCKO), 7 seconds / card (Monochrome, under specific conditions)
Compatible with Windows XP and Vista (32 and 64-bit), 2003 Server
1-Year Warranty
Advantages of the Tattoo Printer:
Simple and User-friendly
Both the printer and the software have been designed with the user needs in mind.
A compact, light and ergonomic design
Tattoo is the most compact printer in its category! It can fit in any location. Easy to carry, it is also ideal for over-the-counter and itinerant applications.
An affordable and cost-effective solution
Tattoo is the perfect solution for small businesses and organizations which require occasional and small batches of prints: a low initial investment, a premium quality and a competitive ribbon offer.
Flexible
Expedient for both monochrome and color printings, Tattoo offers a variety of options and accessories in order to match all requirements.
Reliable and solid
Tattoo benefits from the Evolis' know-how and quality standards in terms of reliability and robustness.