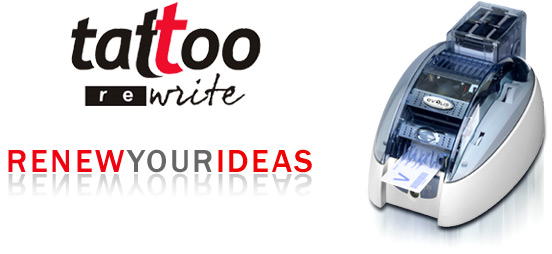 Overview
The monochrome card printer for rewritable plastic cards
Compact and easy to use, Tattoo Rewrite allows you to print and erase the same card up to 500 times!
The ideal solution to issue rewritable cards:
Loyalty cards
Visitors badges
Public transport passes
Clubs / Association cards
School / University cards
Healthcare cards
Flexibility and cost-efficiency
Thanks to the fast erase/print cycles, cards are customized on demand. Add new data in a snap and design a brand new card. As there are no consumables, that is environmentally friendly too!
Main specifications:
Single-sided printing
Rewritable Technology (up to 500 times)
Monochrome Erase
Print cycle : 8 seconds
Encoding options : magnetic stripes, contactless smart cards
Windows XP, 2000 and NT4 compatible
1 Year warranty
Advantages of the Tattoo Rewrite printer:
Versatile and talented
With Tattoo ReWrite, you can personalize 0.25 to 0.76 mm (10 to 30 mil) badges with logos and superior-quality images.
User-friendly
Tattoo Rewrite ergonomics ease operators tasks : installation, use or maintenance.
Powerful card handling
With an automatic or manual feeding mode, Tattoo Rewrite fits your needs, may their be for issuing small runs of cards or over-the-counter operation. More over, its card feeder keeps your cards away from dust.
Clever and cost-effective
Tattoo ReWrite is a cost-effective and environment-friendly solution : you can print and erase the same card up to 500 times without using ribbons.