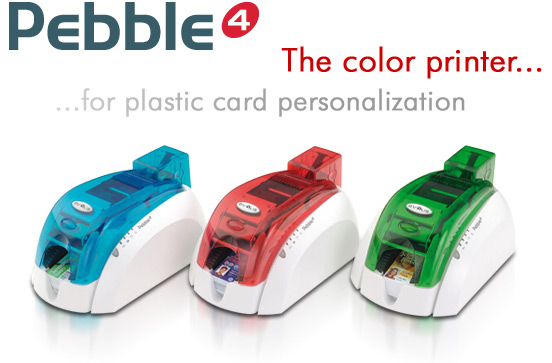 Overview:
The ideal solution for personalizing high quality single-sided badges
Pebble is the ideal solution for any type of application that requires single-sided printing of badges:
Employee Badges
Student IDs
Access control badges
Transport passes
Loyalty cards
Payment cards
Support for Windows, Mac, and Linux
Pebble is delivered with Windows Vista, XP and 2003 Server drivers. Mac and Linux drivers are available for download from Evolis web site.
Plug and Print solution
Equipped with a USB port and an optional Ethernet port, Pebble is delivered with a USB cable and can be installed in a few minutes. The Windows driver and the setup process have been totally reshaped to improve the user interface. eMedia Card Designer software is delivered standard. From the very first time you use Pebble; you can personalize and print badges in a jiffy.
Main specifications:
Single-sided printing
Color and Monochrome capabilities
Printing Speed: 24 s. /card (color - YMCKO), 3.6 s. / card (Monochrome)
Encoding options : magnetic stripes, contact and contactless Smart cards
Supports Windows, MAC and Linux
1-Year Warranty
Advantages of the Pebble printer:
User-oriented Design
Both the printer and the software have been designed with user needs in mind.
Pebble is therefore easy to install, monitor and operate.
Versatile and Scalable
As card printing needs get versatile over time, several options are available to enhance connectivity or get multiple encoding options. Pebble is ready to be customized! Advanced and unique accessories are also available for additional value to Pebble.
Powerful
Pebble is one of the fastest printer in the market, and this next generation printer matches top-of-the-range performances with higher image resolution.
Plug and print solution
Even the standard model is a turnkey printer that comes with full-fledged features for immediate operation. A smart way to save time!
Quality and reliability
Pebble is engineered to last thanks to strict selection of components and advanced quality testing. Pebble reproduces vivid natural colors and images with an outstanding rendition. A no-hassle solution that is also very reliable!
Cost-effective
With stunning performances and features, comprehensive accessories and consumables, and a pioneering warranty, Pebble sets a new performance to price ratio in the industry, for card personalization in small series or in bulk.