EDISecure XiD 580ie Retransfer Printer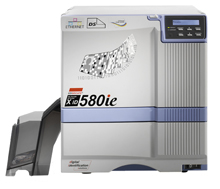 Highest performance for the personalization of smart cards and secure ID cards.
For maximum flexibility in a professional environment, our innovative, double-side EDIsecure® XID 580ie Retransfer Printer comes prepared for various encoding and lamination options. It offers high quality and highly durable print results. With near offset print quality even on the challenging uneven surfaces of smart cards, this printer is perfect for use in highly secure and high volume operations such as government agencies, R&D departments, and laboratories, as well as multinational corporations.
Product Highlights and Features
New security features: Dye-sublimation UV ribbon for covert security printing, IPSEC for encrypted data transfer through network, and Security Ribbon Erase of K-panel black data on used supplies
Double-side printing on a variety of card materials with up to 120 cards per hour
Rugged, industrial design with compact shape for heavy-duty use
Network ready with built-in Ethernet port and IPSEC for encrypted data transfer
Pre-selection of five different card type profiles
Extended printer driver features
Over-the-edge printing with Enhanced Image Processing (EIP) for great-looking cards with crisp, clear colors and flawless continuous tones
Detachable card drawer and colored cartridge system for convenient and simple front-loading of supplies and cards
Heavy-duty Retransfer Film for long-lasting durable cards
Ideal for the printing and inline encoding of smart cards by using the Advanced Chip Encoding Framework
Optional single- and double-side lamination for more durability and security
Field upgradeable to higher versions
1 year warranty
The following supplies are available: YMCK, YMCKK, YMCK-PO and YMCK-UV ribbon as well as XID ART Retransfer film.