EDISecure XiD 570ie Retransfer Printer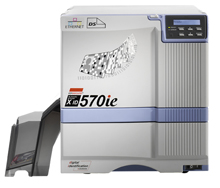 Affordable, fast and robust double-side retransfer printing
The double-side EDIsecure® XID 570ie Retransfer Printer delivers the right combination of reliability, performance and affordability for printing more secure and more durable ID cards. The XID 570ie is a genuine long-term investment with its field upgradeability to higher versions at any time which provides even more functionality. With near offset print quality, it is the perfect printer solution even on the challenging uneven surface of smart cards.
Product Highlights and Features
Double-side printing on a variety of card materials (PVC, ABS, PET, Polycarbonate, etc.) with up to 100 cards per hour
Admin Center software for convenient handling of printer settings for every card type
Intelligent, powerful printer driver with Media Status Monitor on PC
Over-the-edge printing with glossy photo finish quality
Highest ribbon capacity in the industry and detachable card drawer for easy handling and continuous operation
Colored cartridge system for convenient and simple front-loading of supplies
Removable and reusable cleaning rollers
Heavy-duty Retransfer Film for long-lasting durable cards
Security Ribbon Erase of printed K-panel black data on used media
Network ready with built-in Ethernet port and IPSEC for encrypted data transfer
Ideal for the printing and inline encoding of smart cards by using the Advanced Chip Encoding Framework
Optional single- and double-side lamination for more durability and security
Field upgradeable to higher versions
1 year warranty
The following supplies are available: YMCK, YMCKK and YMCK-PO ribbon as well as XID ART Retransfer film.