EDISecure DCP 340+ Direct Card Printer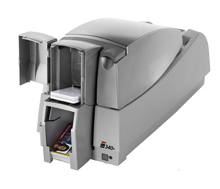 A high-performance, double-side printer for growing needs.
The double-side, edge-to-edge EDIsecure® DCP 340+ Direct Card Printer is the ideal solution for card personalization of medium to higher volume applications. Photo IDs and loyalty cards can be created quickly by the perfect combination of speed and quality.
Product Highlights and Features
Double-side cards printed in brilliant color with crisp, sharp graphics
High-speed printing of up to 190 full-color and up to 1,000 monochrome cards per hour
Fits perfectly on every desk because of its small footprint
Convenient, automatic front card loading and output
User-friendly design for easy operation and maintenance
Advanced cleaning roller system
Various ribbon combinations available
Smart printer driver shows all information on the PC screen, such as message prompts and color image preview
Ideal for medium to high volume applications for corporations, organizations, hospitals, health facilities, and universities, for both photo IDs and loyalty cards
Optional magnetic stripe encoding
1 year warranty
The following ribbons are available: YMCKO and YMCKOKO ribbon as well as monochrome K (black), W (white) and S (silver) ribbon.